Welcome to
Nithya Kamya Maha Yagnya Samithi -
Shobhakruthu Varusha Panchangam
With the blessings of
Shri Shri Kanchi Kamakoti Mahaperiyava, Shri Shri Kanchi Kamakoti Peetadhipathi Jagadhguru, Shri Shri Jayendra Saraswathi Swamigal, Shri Shri Vijayendra Saraswathi Swamigal, Shri Shri Sringeri Sarathapeeta Jagadhguru, Shri Shri Bharathi Theertha Mahaswamigal, Shri Shri Krishna Premi Swamigal and Mahaneeya's (Vedha Vidwans),
we have published
Shobhakruthu Varusha Panchangam
which is a 14th year activity that comprises all Spiritual rituals, Deva, Pitru, & Pooja sankalpas. These calculations are done based on Chennai's Sunrise.Every year we print & publish this panchangam for about
30,000
copies that being supplied to the users who are avail in all over India, United States, United Kingdom, United Arab Emirates & even other Asian Countries.
Speciality of our Panchangam
This Panchangam specially contains
Tharpanam, Daily Pooja
the brief explanation and procedures of
Month Beginning Tharpanam, Amavasya (No-Moon-Day) Tharpanam, Mahalaya Paksha & other sankalpas
with explanations. Also briefed Rig, Yajur, Sama Veda's Aavani Avitta maha sankalpam, Vedharambam & Brahma Yagnas.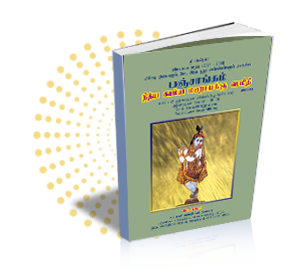 Even contains Quotes of Dharma Sastra, Birth & Death rituals (theettu), Chadrashtamam etc., Every Year Sarva Muhurtha & important dates are specified. This panchangam will also have Ratha Saptami, Bheeshma Astami, Snana Arghya mantras, Sarva Devatha Prarthana slokas etc.
Like to download our Panchangam -
Click here